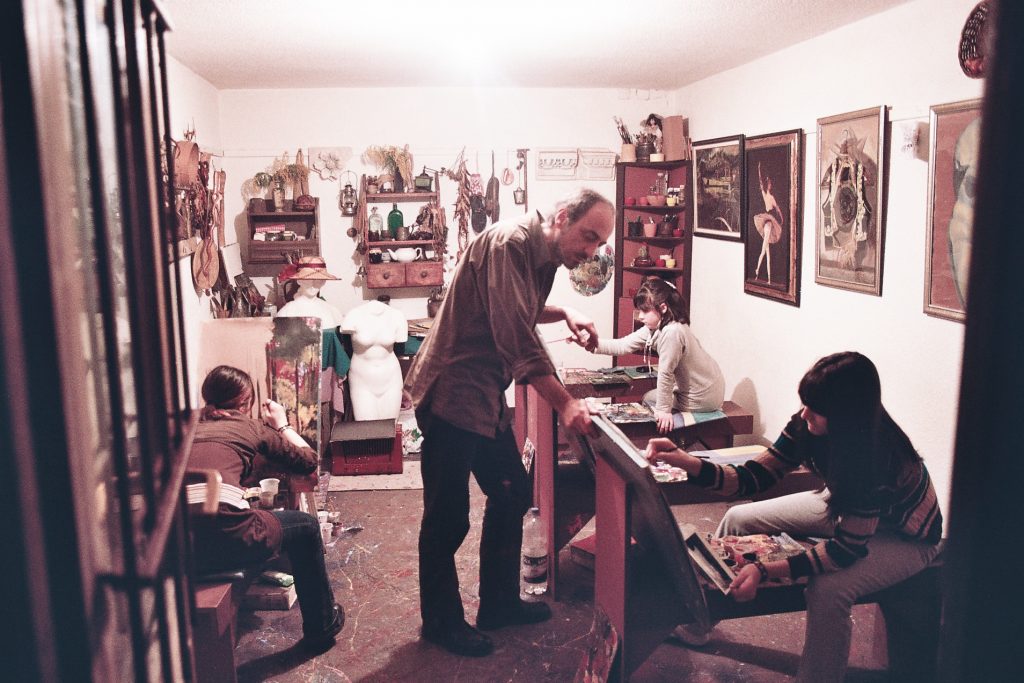 "Paleta" was established on February 4, 2003 in Zvornik as a non-profit, non-party and multi-ethnic organisation, and as such is the only one registered in the country.
The founder of the workshop is a painter and teacher Jovo Lalic who directed his work and extensive painting experience towards young talents. Workshop currently consists of 35 members, among which there are elementary, high school and college students aged from 7 to 25 years.
The aim of the workshop is to educate young people in the field of Fine Arts.
The workshop was established in order to improve creativity of the young in the field of Fine Arts through classic study of Art issues, and as such to contribute to development of artistic expression as an integral part of any successful society. Since its establishment until today, thanks to the workshop, a far more favorable climate in the culture of the town has been created. The workshop achieves its goals through everyday hard work during ten months of the year; through exhibitions and art colonies; through socializing and exchanging experience with similar associations. The results can be seen in numerous exhibitions and colonies. We especially emphasize:
Zvornik Summer Festival
Samac Autumn Festival
Banja Vrucica
Kumbor – Child Protection Fund
Vukov Trsic
Workshop "Koraci", Ministry of Education and Culture
Bijeljina Biennial
"International Children's day" – exhibition at the Parliament of Bosnia and Herzegovina
"Days of the Danube" – exhibition in Budapest
Colony in partnership with NGO "Good Bear"
Colony supported by OSCE in the implementation of "What prejudice cannot see" project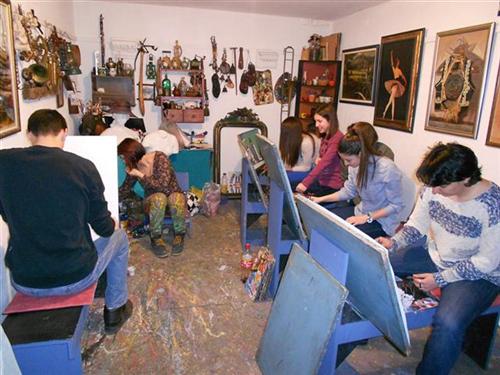 Members of the workshop received numerous awards, letters of thanks, diplomas and certificates. The most distinguishable among others were: Dejan Vidakovic who received First Place Award and Ines Glavas who received Second Place Award in the workshop "Koraci" , in Banja Luka. Dejana Mitrovic was awarded First Place Prize for representing Bosnia and Herzegovina at the International exhibition "Days of the Danube" in Budapest. The success of the workshop is also reflected in the fact that great number of its members have continued their artistic development in Art schools and colleges. Some of them were, and are still, highly successful. Kristina Jovanovic was engaged in the project "Hope Japan Poster", and won First Place Award in Rome, 2011. Later in Dusseldorf, her poster was proclaimed as one of the six best posters, which gave her the opportunity to present it in Tokyo and Cologne within the framework of "Project Sunshine for Japan".
We are very proud to say that The Ministry of Education and Culture have acknowledged the success of the workshop and its members, naming the workshop one of the most important contributors to cultural development of both, our community and the region, and even beyond.